SIP panel Home Kits Explained
SIP panel home kits or Structural Insulated Panels are the next step up from timber frame construction.
They're large timber panels normally made up of two sheets of Oriented Strand Board (OSB) with a sheet of insulation sandwiched between them to form one large, very rigid and well insulated panel.
Like timber frame construction the SIP forms the inner leaf of the main external walls of your home. With the outer leaf being made up of brick, block or cladding etc.
So Why Use SIPs Over Timber Frame?
The big advantages SIPs have over timber frame is they're easy to make air tight and they arrive on site insulated and ready to install.
Whereas timber frames typically arrive on site with just the breathable membrane attached to the outer edge and no insulation or inner wall finish applied. 

Then once erected timber frames need to be allowed to dry fully before adding insulation and a vapour barrier etc.
So the SIPs should offer a faster construction time.
Performance of SIP Panel Home Kits:
SIP panel home kits can, just like any other construction type out there, be designed to suit whatever performance standards you require, by simply changing the type or thickness of the insulation built into them.
EPS (expanded polystyrene) insulation is available within SIPs but it's inferior to the polyurethane fitted by the majority of SIP manufacturers in the UK, and not just in terms of u-value.
EPS is more difficult to bond to the OSB board in a way that offers the sort of strength provided by the polyurethane boards as they chemically bond to the OSB as the polyurethane is sprayed rather than relying on a separate glue product.
Polyurethane foam based insulation material also offers lower u-values (lower is better) and a thinner wall profile, although they're more expensive than the expanded polystyrene type.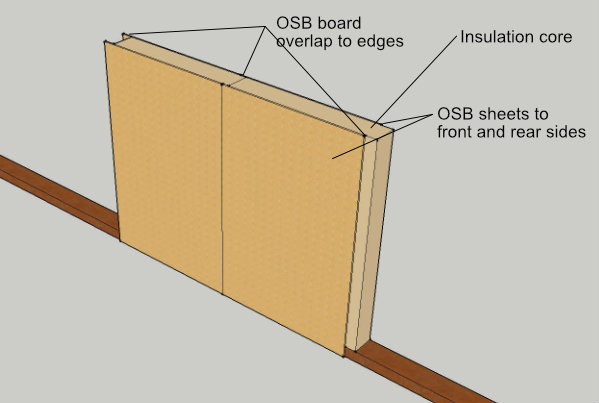 Advantages of SIP Construction:
Reduced labour time on site

 as panels are cut to the exact size in the factory. They're also light weight, so less lifting equipment is required.



They come pre-insulated,

 saving time on site.


You don't need to let them dry or pre-load them to compress them, as you would with timber frame, before starting to build the outer leaf of construction.


They're very strong - the two sheets of OSB are chemically stuck to the insulation meaning the resulting structure is extremely strong. The University of Surrey has shown that structural insulated panels can be up to 5 times stronger than traditional timber frame construction.


The structure will not twist while being erected unlike traditional timber frame which needs to be braced during the erection phase.


Easy to make air tight and eliminate cold bridging.


Offers better sound resistance than timber frame as there are no gaps in the construction.


Less waste - as they're built in  factory to your exact specifications there is very little waste. Which is great for the environment and even better if you're trying to achieve PassivHaus standards where you have to record all site waste etc.
Disadvantages of SIP Construction:
Once the SIP panels are cut in the factory changes can be difficult and potentially expensive. So make sure you get it right at the design stage.


Cost - by the time you take into account needing less labour and less time required on site they tend to cost around the same as traditional timber frame.


You should always try to use a builder who has experience in SIP construction. Like all forms of construction and insulation, if it's poorly fitted you'll get poor results.

Construction Process:
The process of erecting SIP panel home kits is really straight forward as all the hard work is done in the factory. You'll already have your foundations and sub floor in place when your SIP panel home kit arrives on site.
Although, it's essential that your finished foundation is perfectly level otherwise you'll run into issues when building the SIPs.
If you've opted for a SIP flooring system it will go in along with the walls and they're simply lifted into place (they're typically around 25kg/m²) and screwed/nailed in place.
If you're building a single storey building the next stage is to put on the SIP roofing panels which are installed in exactly the same way. Or if you're building a 2 or more storey house the first floor is installed and then the first floor walls followed by the roof.
Your SIP panel home kits will need a breather membrane attache to the outer face of the panels which won't tent (flap away from the wall surface) and you'll need to install a good vapour barrier to the inside surface of the walls to prevent water vapour penetrating the SIP and insulation.
Once the SIPs are in place the outer finish can be applied in the form of a masonry leaf in brick or block, render on calcium silicate board or cladding. But a cavity of at least 25mm is required.
Very often the manufacturers will recommend installing a double layer of plasterboard to the inner surfaces to allow for services to be tracked to the various points without cutting the OSB board.
Here's a nice simple video showing the construction process.
It's not out of the way to expect a typical 200m² two storey SIP frame and roof to be up and weather tight in a week.

Conclusion:
SIP panel home kits are quickly gaining momentum over traditional timber frame kits in the UK and Ireland due to their speed of construction, improved air tightness and potentially superior energy efficiency ratings and tight tolerances.
Just make sure you do your homework at the design stage as they can be difficult to alter once the arrive on site.