Best Insulation for Homes
To say anything is the best insulation for homes is clearly a subjective statement and I've no doubt there are people out there who may disagree with my choices.

However these are my opinions (if you disagree please feel free to comment or suggest your best insulation for homes at the bottom of the page).
For a more in-depth information on each type of insulation please feel free to follow the links below to each of the individual insulation articles.
Why do we need insulation?
An uninsulated home loses around:

25% of its heat through the roof
33% through the walls
15% through the floors
15% through draughts
20% through the windows. 
The vast majority of that heat loss (around 58%) comes from two areas i.e. the roof and walls.
The ironic thing is these are areas which are fairly straight forward to insulate.
So it's not hard to see why adding insulation to your walls and roof can reduce your heating costs significantly and it's pretty affordable and easy to do.

How Does Insulation Work:

It's really important to understand how insulation works, if you want to have any chance of choosing the best insulation type for your situation.
New Build Properties:
When building a new home the amount of insulation will be dictated by building control. You could always increase on what they suggest if you'd like to try to reduce your heat loss even further.

However modern standards are pretty high and you do get to a point where it's no longer cost effective to just keep adding insulation.
The most important thing to ensure with a new build project is that the insulation is well installed with no gaps. 

Retrofitting the best Insulation for Homes:
As mentioned above the two main areas where people retrofit insulation are the loft and the walls. But even in these areas there are lots of different wall and roof construction types out there and these all have different requirements when it comes to retrofitting the best insulation for homes.
And don't forget that when you add or upgrade insulation you'll need to consider whether you can add a vapour barrier. These prevent water vapour from entering the insulation or the structure of your home. Which would reduce the effectiveness of the insulation and can cause damage, but more about that later.

Walls:
1. The Best Cavity Wall Insulation: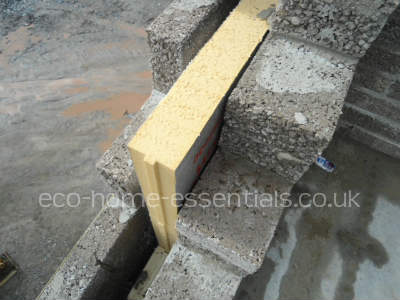 Traditional Cavity Wall Insulation
Traditionally, in a cavity wall, there would have been a layer of insulation against the inner leaf of the wall and an air void next to the outer leaf of the wall.
The principle of this was to avoid any moisture that may penetrate the outer leaf from being transported across the insulation to the inner leaf which could cause penetrating damp.
In recent years however firms have started retrofitting cavity insulation that fully fills the cavity. This can raise its own issues which are explained in my article of cavity wall insulation problems below.
Best Insulation For Homes - Wall Insulation Articles:
2. The Best Alternatives to Cavity Fill Insulation: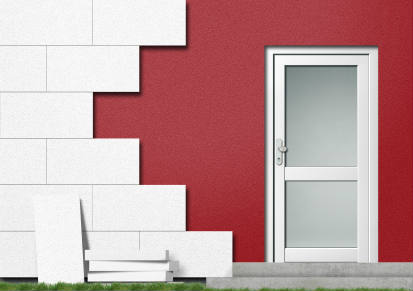 If your house doesn't have cavity walls you can still insulate them, although it will cost more than cavity fill insulation.
There are two methods:
External Insulation - Where you physically add insulation to the exterior surface of your main walls. But there's more to it than you might think.


Internal Insulation - As the name suggests, this type of insulation is added to the inner surface of the main walls of your house. But, you guessed it, it's that straight forward, there are some things you MUST include.

Ceilings:
When choosing the best insulation for homes you need to consider the type of insulation suits your situation best. With ceilings it will depend on the roof type you have and how you want to use it.
Warm Roof - this type of involves fitting the insulation to the underside of the roof cover (between the rafters) allowing heat up into the roof void hence the name "warm roof".

Cold Roof – again, as the name suggests this type of installation stops the heat rising into the roof void by placing the insulation material against the ceiling of the habitable rooms below (or between the floor joists in the roof space).

This is the most common type within traditional houses while a "warm roof" is more common in  chalet style houses where you have habitable rooms within the loft area.
Ceiling Insulation Articles:
if you have a chalet style property, where you effectively have habitable rooms in the roof space, your choice of insulation will be a little more restricted.

This is due to the fact that the space between the finished plaster on the sloping section of your ceiling and the exterior roof finish will only be the depth of your rafters (less a space for air flow).
This will restrict your choice of insulation and perhaps more importantly the amount of insulation that you'll be able to fit into this space as you need to leave an air gap to allow the roof to breathe and avoid condensation.
Rock wool loft insulation – this is the most common form of loft insulation for cold roofs. But you'll need to know the right way of laying it, where it might not be suitable and the right equipment to use… click here for more details.


Aluminium foil backed insulation – If you choose to add "warm roof" insulation this is likely going to be your chosen material. Find out how to install it in such a way so as to avoid condensation and damp problems down the line… click here for more details.


Multilayer foil insulation – not as common but is used in more specific applications where other forms of insulation may not be suitable… click here for more details.
Have a read through each of the articles above and you should be able to see which of my choices for the "best insulation for homes" is going to be right for your situation.
Provided your chosen option is installed correctly the best insulation for homes will be the one you go for after getting all the relevant information and making your own informed decision based on your unique circumstances.

Best Insulation