Eco Home Essentials
Your Guide to Green Home Technologies
Welcome to eco home essentials, let me ask you a question.

"Would you like to improve the energy efficiency of your home, lower your energy bills and make your house a more pleasant place to be and reduce your carbon footprint?"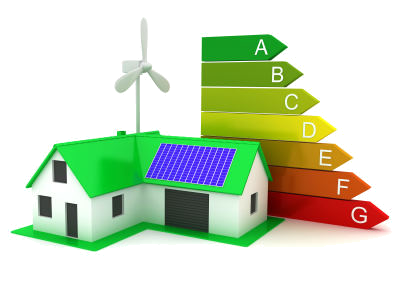 ---
Of course you would!

"But all those renewable products cost a fortune, are a real hassle to install and no one understands all the jargon, right?" 
Not necessarily, you can enjoy the benefits of lower energy costs while protecting the environment and I'll show you how.
I believe we should all be trying to reduce the amount of energy we consume within our homes by as much as possible and that way we have a lower demand for fuels. I accept we may not all be able to afford to upgrade our homes to Passivhaus standards, but we can all start small and build on it.
So What Should You Prioritise?
Get rid of uncontrolled ventilation (draughts).


Insulate to as high a standard as you can (preferably using natural, hygroscopic, breathable insulation).


Install good quality double or triple glazing.


Get rid of cold bridging where possible (easiest solution is to insulate externally).


Install a good ventilation system, either passive stack ventilation which uses no energy at all, or Mechanical Ventilation with Heat Recovery which runs on electricity.


Only at this stage should you consider renewable technologies to generate the remaining energy you need.
So while I do cover the various green technologies that are available they should not be the first things on your wish list. I see houses with solar thermal panels and photovoltaic panels on them all the time, but they're draughty and poorly insulated so they have a much higher demand for power than they need to have. Their owners would have been much better placed to have focused on points 1-5 initially. Then when their demand for energy was as low as possible they could have, if really necessary, have put in smaller panels at a lower cost to supply any additional power they required.

Here at Eco Home Essentials, I'll also try to break down the jargon so you can understand what the sales reps or suppliers are talking about. That way you'll be able to arm yourself with the relevant information that you need and be able to ask them the pertinent questions and know if they're simply 'bluffing you' or if they really know what they're talking about.
I'll explain all the basics of what to look out for, what the advantages and disadvantages are and more importantly show you how to figure out which of the technologies will work for you and which won't.
How Can Eco Home Essentials Help you?

As a home owner, I've owned an eco home (new build) and I now live in an old house (built in c.1900) and some of my biggest expenses (and I'm guessing yours) on an on-going basis are fuel costs such as electricity, gas, oil, water heating, space heating and water charges. 
They're never ending, every month (or every quarter), they arrive like clockwork and you've no choice but to pay them... 
... Or do you?
At Eco Home Essentials I believe you do have a choice. 
So I'm going to show you that making you home more energy efficient is achievable through simple changes to what you already have, right through to the more expensive options and eco friendly technologies further up the price range.
I'll show you how to improve your existing home, or what to consider when extending. The site is primarily aimed towards people who want to improve their existing or older homes into energy efficient houses. But I'll also cover some options for building new or adding extensions. So if you want to convert your existing property into your ideal green eco home or just carry out a few simple improvements that will reduce your energy consumption and your running costs, you're in the right place.
Once you understand how the simple things that you may never have given a second thought, like vapour barriers and controlled ventilation etc. can make a huge difference, you might be surprised at how straight forward it is to create your very own eco home.
You'll also learn to appreciate how your high bills are affected by the simple things like insulation (often poorly or incorrectly installed), draughts and ventilation.
If you can get the simple things right you're well on your way to reducing your bills significantly. 
I'll explain the simple things, like insulation and ventilation and how straightforward additions to them (that many builders simply don't use) can make big differences to how they perform.


I'll explain all the various technologies without the jargon (and more to the point, without the sales pitch).  


I'll tell you what you can expect to achieve by installing your chosen technology or upgrade and how that technology or home improvement can have a knock on other aspects of your home (and not always in a good way!).


I'll tell you about the disadvantages of the various materials and eco-technologies as well as their advantages.
Having worked as a surveyor for almost 30 years (apart from feeling old) I've come to realise that most of us want similar things when it comes to our homes:
We want them to be a safe and healthy place for our family.
We want them to be as cheap to run as possible.
We want them to be as low maintenance as possible.
We want them to increase in value.
… and if possible we want to achieve the above in as environmental friendly a way as possible.
The good news is, that it is possible (no matter what your budget) to improve the efficiency of your home. 
Whether you've little or no money available to spend on turning your home into an eco-home or you've got a large budget to do a complete refurbishment. There are always things that you can do today to get your bills down and become more environmentally friendly in the process.
Two Types of Properties.
There are really only two basic types of properties to start with (I'll drill down deeper into each type later in the site).
Existing or Older Houses - This is the type of property most of us live in, they won't comply with the most recent Building Regulations and they won't be as well insulated as they could be and they're probably quite draughty. Perhaps you've lived in it for a while and now want to carry out a few improvements or perhaps you've just bought an older house and want to carry out a complete refurbishment in order to try and create your own eco home prior to moving in. No matter what your current situation I'll try to show you the things you can do regardless of the amount of money you have available to do it.


New Houses - This type is pretty self explanatory and if you're buying from a builder it should be pretty efficient as is as they have to comply with the current regulations (but a lot of things such as insulation etc is only as good as the person installing it). Plus there'll always be different technologies that you may wish to add to your new house such as solar hot water, PV panels, etc.

Alternatively you may be looking to self-build a house for yourself and you want to understand the various issues and solutions so that can get it right or at least understand the options.

Either way there should be something here for everyone.
So what qualifies me to give this help?
My name is Jeremy and I've worked as a Chartered Surveyor since 1996 inspecting residential properties.
I've also worked as a domestic energy assessor carrying out EPCs on residential property.
I've even worked with many of the renewable companies in the boiler, solar panel, ventilation, condensation, biomass and insulation sectors.
---
Within this site I cover all the popular green technologies, from the obvious ones such as solar panels and wind turbines, solar hot water and low energy light bulbs to the less well known technologies such as biomass energy and the often overlooked details such as insulation, vapour barriers, ventilation and draughts.
Please feel free to browse through my eco home articles and if you've got a question do get in touch. If I can help I'll be glad to and if I can't I should be able to steer you in the right direction.
If you like my articles please click the Facebook icon at the top right of this page to like us.


Post a comment below to tell your friends.


Or simply subscribe to my RSS feed by clicking in the RSS box at the top right of this page.