Eco-Home Blog
My eco-home blog is my mini journal which will help explain the pros and cons of the various eco-home technologies and which of them will best suit your situation.
It will....
- Provide you with the latest eco-home news.
- Keep you up to date with my newest articles.
- Give you fresh ideas on how to make your home greener and save you money.
- Tell you how to approach suppliers and the most important questions to ask them.
Plus, you don't have to give your e.mail address to get updates.
To subscribe to my eco-home Blog (no email address required) RIGHT CLICK on the orange RSS button and then copy and paste the URL of this site's RSS feed into your RSS reader. OR...
- click on the Google, My Yahoo!, my MSN, or Bloglines button if you keep a personalised home page with these providers. Then simply follow the instructions.
- if you're not sure what RSS and blogging is all about just click on the "?" above the orange RSS button for an easy to follow explination.
Each of the blogs below will have a permalink to take you to the full article if you want more information.
I hope you enjoy your time on my blog, after all it feels good to do your bit to save the planet and save money into the bargain.
Air Source Heat Pump Efficiency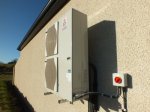 Understanding the air source heat pump efficiency is essential if you want a system that is cheap to run and following a few steps can help you achieve this.