CFL Light Bulbs
Should You Be Fitting Them?
CFL light bulbs are actually miniature versions of traditional fluorescent tubes.
As you can see from the picture below they're the "curly" type low energy bulbs which you can buy pretty much anywhere. They're also what most people think of when you mention energy saving light bulbs.
They're also the bulbs that people feel "take ages to light up" and "aren't very bright", but hopefully I can dispel that myth.
CFL stands for compact fluorescent light - also referred to as energy saving lights or compact fluorescent bulbs.
As I've mentioned above they're tiny versions of fluorescent tubes with all the electronics required to start them built into the base of the bulb enabling them to be used in traditional light fittings to replace your old incandescent bulbs.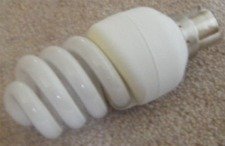 Thankfully, since the early days of CFL bulbs the manufacturers have improved the manufacturing process to improve the start-up time and light quality.

Modern CFL bulbs can light within 1 second.
I have to admit I was one of the early adopters and was really disappointed with their performance. But I'm glad to say I went back and tried them again and am now a convert.
My entire house is fitted with a combination of both CFL bulbs and LED bulbs.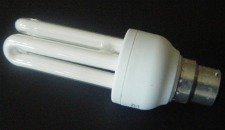 Advantages of CFL Light Bulbs:
CFL bulbs use much less electricity than traditional incandescent bulbs (around £120 less over the typical 12 year lifespan of a CFL bulb).
They last much longer than a traditional bulb. Around 12 years compared with typically 10-12 months for traditional incandescent bulbs.

Good quality CFL bulbs light within 1 second and don't flicker.
Despite initially costing more than an incandescent bulb it will last as long as around 10 - 15 regular bulbs and use around £120 less electricity.
They can be used in virtually any light fitting so they're easy to replace.
Disadvantages of compact fluorescent light bulbs:
CFL bulbs contain mercury (typically 3-5mg per bulb but some eco-friendly versions contain as little as1mg per bulb) so disposing of used bulbs has to be carried out at recycling centres.
Although they now turn on very quickly, unless you install special fittings they are still not instant like incandescent bulbs. 

Not all CFL bulbs are dimmable. If you want to put them in dimmable sockets you'll need to buy a special CFL bulb that has been designed for this purpose. They are available; just check the packaging before buying. Using a standard CFL light bulb in a dimmable socket will shorten its lifespan and could be a potential fire hazard.
They're not generally designed for outdoor use. If you do use them outdoors and it's too cold they will likely take longer to start or they may not start at all.
---
As I mentioned above, a single CFL bulb can save you around £120 in electricity over its typical 12 year lifespan, so it's not hard to work out what a typical house could save by replacing 15 regular incandescent bulbs (£1,800). I know - I was surprised too, but now you can see why I only use low energy bulbs in my house.

So what size of bulb should you use to replace your incandescent bulbs?
| Traditional Incandescent Bulb | CFL bulb |
| --- | --- |
| 40 watt | 9-12 watt |
| 60 watt | 13-18 watt |
| 75 watt | 19-24 watt |
| 100 watt | 25-30 watt |
I hope I've convinced you that the modern CFL light bulbs have improved enough for you to give them another try, and that you should be changing all your old light bulbs to CFL bulbs as they burn out. Alternatively you could switch to LED bulbs for even greater savings.
If you want to be truly green, you should wait until your old bulbs expire before replacing them as this avoids any unnecessary waste.
---